How to bring out

the Taste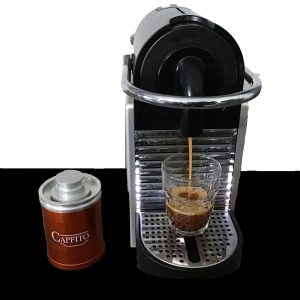 Therefore, here are some tips on how to increase the temperature of your coffee so that it will be hot!
Heat the cup with water in the microwave before making coffee or run half a cup of water out of your Nespresso machine after bringing it up to temperature. YOUR CUP MUST BE WARM, to maintain the firmness of the espresso ,its temperature, and the color of the crema longer.
Always dispense water from your coffee machine before introducing the capsule! This trick, which professionals perform at the coffee shop, helps keep your machine clean and last longer, and allows you to drink better coffee.
Curiosities about

Coffee

An article in Sole 24 Ore saw in the April/May 2020 bimonthly period with the Covid 19 Emergency a sale of 61 million packs of coffee for an expenditure of more than 223 million euros.

Forced domestic permanence has given a further boost to capsules and pods, with the obvious issue of their disposal.

Coffee capsules generate 120 thousand tons of waste each year, volumes are growing exponentially, and the issue of disposal remains open.

With Capfito you can, in your own small way help the 'environment create less waste.

You can take the time to search for your favorite blend and seal in its aroma thanks to Capfito.